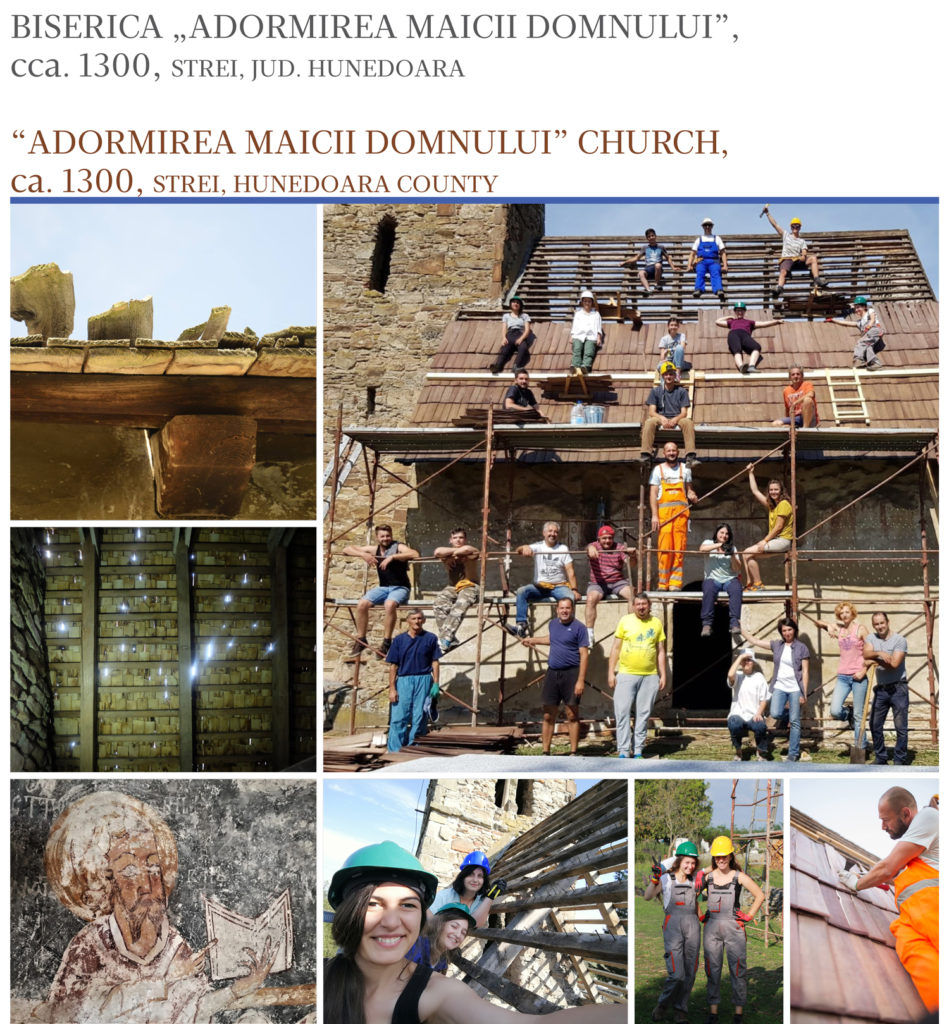 GENERAL PRESENTATION
The church is Strei is one of the oldest monuments in Hunedoara county and in Romania, unique for its simple architecture and mural painting, the latter preserved both inside and outside. A single rectangular space for the naos and a square spaced altar to the east and a bell-tower with biforium openings on its fourth level and pyramidal roofing made from brick and stone.
THE STATE BEFORE THE INTERVENTION
The last roof coverings of both the naos and the altar were made around the year 2000, by mechanical cutting of the wood shingle and its inadequate assemblage. The material progressively degraded in the last period, thus allowing water infiltrations inside the church and threatening the roof structure, the wood ceiling above the naos and the mural plaster and painting. The outside plaster was also damaged especially in the lower parts of the altar walls, mainly because the gutter ditch around it was not properly correlated with the eave, thus the water reached the base of the walls, behind the gutter.
SAFETY INTERVENTION PROPOSAL
Following the building state evaluation, the following interventions were considered: the removal of the deteriorated wood covering and its replacement with a new wood covering made from manually executed shingles (their size and assemblage pattern were established based on a previous study, in which the situation from 1895 was documented); the reconfiguration of the gutter made from river stone by correlating it with the (new) eave; cleaning of the main artistic elements (stone inscriptions and mural paintings) and their in situ preservation, coordinated by specialized restorers; the replacement of the old lightning rod, damaged and unfunctional, with a new one corresponding to the current norms.
ACCOMPLISHED INTERVENTIONS
Only the first part of the safety interventions proposed were accomplished so far, namely the documentation and dismantling of the existing roof covering (which was entirely degraded), the assemblage of the new wood covering according to the proposal presented above, and the reconfiguration of the gutter around the altar. The works were financed by the City Hall of Călan, Deva Episcopate and private donors. The tools used during the intervention were provided by S.C. TEMAD CO SRL in Braşov.