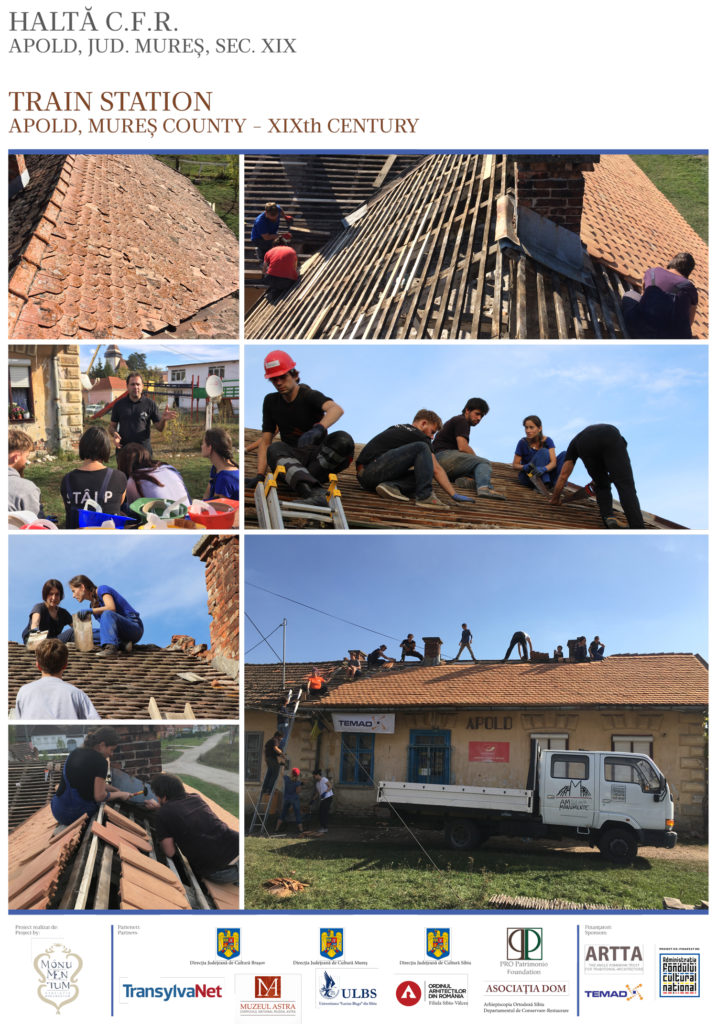 GENERAL PRESENTATION
Quite unusual, the train station is located in the center of the locality, in front of the evangelical church. This is one of the stations along the mountain train route Sibiu-Sighișoara (the famous locally named "mocăniță"). The building is rectangular, with only one level, and was built in two phases — of which the first is probably to be dated at the end of the 19th c. The monument still preserves the structure and the sober decoration of the time, with plaster embossment at the windows, but also for vertical elements at the corners; these were used in the following phase as well.
THE STATE BEFORE THE INTERVENTION
A part of the roof tiles degraded and some of them also fell, thus endangering the safety of the people passing by, but also of the roof structure. An emergency intervention was necessary in order to avoid the fall of other roofing elements.
SAFETY INTERVENTION PROPOSAL
We proposed the replacement and completion of the degraded or missing elements of the covering (laths and new handmade tiles).
ACCOMPLISHED INTERVENTIONS
The intervention was made according to the proposal. The handmade tiles were executed at the traditional tile-workshop in Apoș. The intervention
works were supported by CasApold Association, private donors (especially Reid family) and RomaniaOne Foundation. S.C. TEMAD CO SRL from Brașov offered the work equipment.