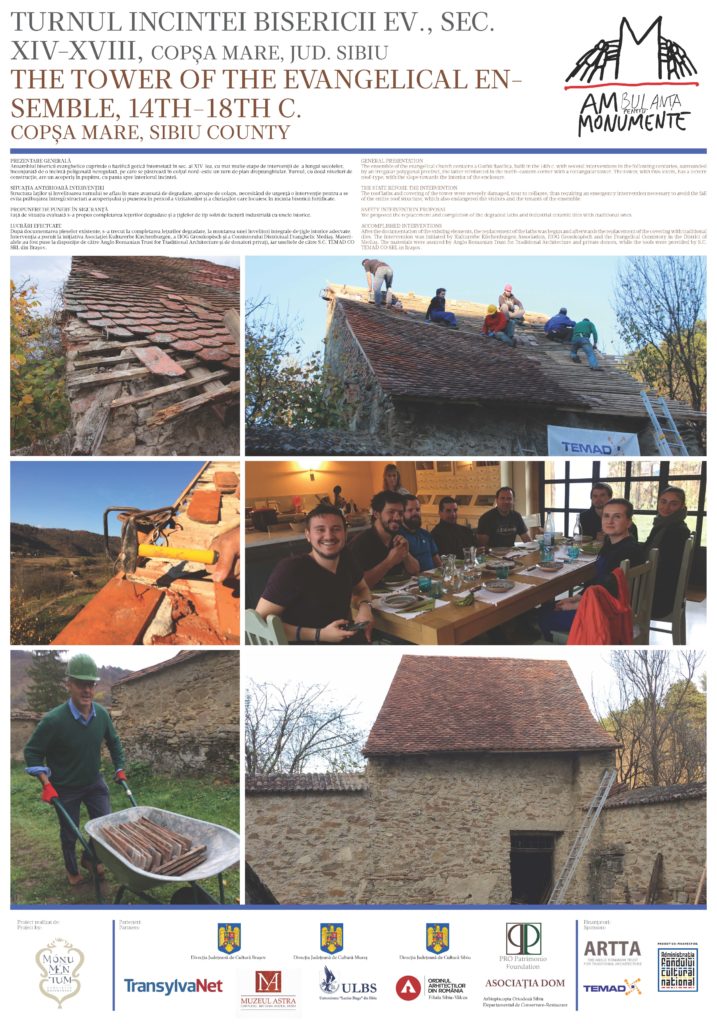 GENERAL PRESENTATION
The ensemble of the evangelical church contains a Gothic basilica, built in the 14th c. with several interventions in the following centuries, surrounded
by an irregular polygonal precinct, the latter reinforced in the north-eastern corner with a rectangular tower. The tower, with two levels, has a lectern
roof-type, with the slope towards the interior of the enclosure.
THE STATE BEFORE THE INTERVENTION
The roof laths and covering of the tower were severely damaged, near to collapse, thus requiring an emergency intervention necessary to avoid the fall
of the entire roof structure, which also endangered the visitors and the tenants of the ensemble.
SAFETY INTERVENTION PROPOSAL
We proposed the replacement and completion of the degraded laths and industrial ceramic tiles with traditional ones.
ACCOMPLISHED INTERVENTIONS
After the documentation of the existing elements, the replacement of the laths was begun and afterwards the replacement of the covering with traditional
tiles. The intervention was initiated by Kulturerbe Kirchenburgen Association, HOG Grosskopisch and the Evangelical Consistory in the District of
Mediaș. The materials were assured by Anglo Romanian Trust for Traditional Architecture and private donors, while the tools were provided by S.C.
TEMAD CO SRL in Brașov.
VOLUNTEERS
Razvan Stanciu, Tudor Tescoveanu, Cipi Munteanu, Ane Ristea, Ștefana Paul, Vlad Paul, Veronica Vaida, Eugen Vaida, William Blacker